"Sincerely, Jill Poet"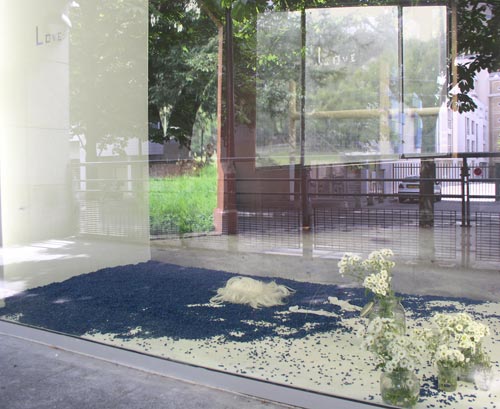 For about 10 years I have been in an ongoing and rich dialog with Ben
Kinmont about life and art. Ben revealed elements of my work to me; the
powerful intersections and relationships between my life as a Mother, a
garden creator and an artist; how all these perspectives were enfolded
in my own production. Ben showed me how there is a historical
background for the esthetic of my pleasing.
Jill Poet is the fictional character I work with sometimes to
illuminate something so ephemeral and pure in my garden design process
that I had to create an imaginary person to describe it!! The moment
the garden appears in my mind; Jill Poet is the personification of that
moment; so I take care of her in a devotional way.
"Sincerely, Jill Poet" is for Ben. I placed ephemeral gestures of her
passing through a fictional space I rendered before the photographic
space Ben has depicted in the window gallery. It is a way to continue
the thread of our dialog in a public way, and a way to call upon Jill
Poet to be part of that dialog now as I have an input in to Ben and
Naomi's land inSebastopol,California.
The relevance of that dialog to the public, I feel, is that
relationships WITHIN the community of artists is a truly alive
sculptural phenomenon that the public engages in, perhaps in an unknown
way most of the time. I am calling attention to that interior world of
artists' dialogs; it has interesting esthetic possibilities to me, and
seems to be the basis of the Random Gallery's concept.
***
Depuis presque 10 ans j'entretiens un dialogue constant avec Ben
Kinmont à propos de l'art et de la vie. Grace à lui j'ai pris
conscience de certains éléments dans mon travail: les fortes relations
et interactions entre ma vie de mère, de créatrice de jardin et
d'artiste et comment toutes ces perspectives sont imbriquées dans ma
propre production. Ben m'a montré comment ma démarche qui était plus de
l'ordre de l'impulsion avait des résonnances historiques dans un
contexte artistique.
Jill Poet est le personnage avec lequel je travaille quelques fois pour
mettre en valeur un élément si ephémère et pur dans mon projet
artistique autour du jardin qu'il me faut créer un acteur imaginaire
pour le décrire. Jill Poet est la personification du moment précis où
le jardin se révèle à moi, c'est pourquoi je prends soin d'elle avec
une grande dévotion.
"Sincerely, Jill Poet" est dédié à Ben Kinmont. J'ai placé des traces
ephémères de son passage à travers un espace fictif comme si il
existait avant que l'espace photographique de Ben ne soit représenté
dans la vitrine de la galerie. C'est un moyen de poursuivre le fil de
notre dialogue dans un cadre publique et un moyen de convoquer jill
Poet comme partie de ce dialogue maintenant que, grâce à cette
vitrine, j'ai une place dans le jardin de Ben et Naomi à Sébastopol en
Californie.
La pertinence de ce dialogue avec le public réside, de mon point de
vue, dans le fait que cette relation à l'interieur de la communauté des
artistes qui est un veritable phénomène créatif en action engage le
public (bien qu'il le soit le plus souvent de manière inconsciente).
J'appelle votre attention sur ce monde interieur qu'est le dialogue
d'artiste; qui offre d'intéressantes possibilitées esthétiques et qui
me semble être la base du concept de la Random Gallery.