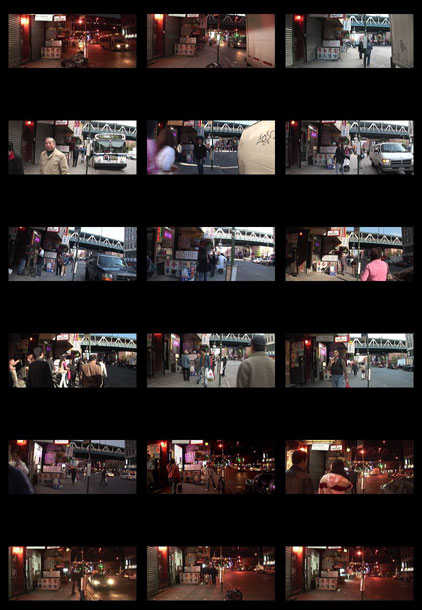 24 hour walk: Chinatown
Chinatown, New York City, Fall 2005.
Chinatown in New York is unique. Walk the streets in the afternoon and you can here no English being spoken. The air is thick with the fetid smells of raw food. The streets are awash with Asians and foreign culture. Look up at the signs and usually only word readable to an english speaker is 'restaurant'. To spend time in Chinatown is to travel to the East without leaving the West. To walk in Chinatown is to be displaced, transported, lost. This is where I live, I am the perpetual tourist.
Walking always carries the risk of getting lost. Wander away from what you know, turn a corner too far; lost. The act of walking is to define a path, and to make the decision to follow it. Most will live a life, repeating the same paths over and over. We become complacent and blind to the paths taken everyday. The last 100 meters from home, the brain shuts down, the eyes gloss over and the ears close. We walk as zombies into our own homes, looking for
everything to be as we left it. But that sense of home is extended outward to the surrounding streets. We forget to look and miss what is dynamic around us.
24 hour walk: Chinatown is an interactive visual simulation of the repetition of my walk home.
Each tap on the screen shifts the viewer in time, one hour forward creating a pathway normally closed to us.
The piece consists of 24 High Definition video loops, each shoot starting on the hour though the day. A computer listens for the viewers' interaction and jumps from loop to loop. If there is no interaction from the viewer the loops progress forward on the hour by itself.
The path taken and filmed in the video loop is that of the circumference of the block I live on. Each trip takes around seven minutes to complete.
Garret Linn
fall 2005