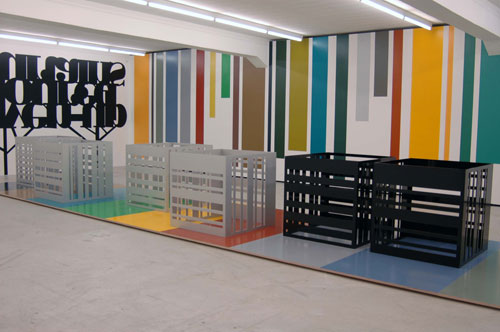 exhibition view 222nd Floor, Eva Presenhuber, Zurich.
Two hundred and twenty-second floor is an exhibition that treats the gallery as if it were a transparent structure. It is not necessary to speculate as to whether it is intended to be understood as the top of a building; one of many floors in a sweeping and flat massive architectural structure or a designated space that exists completely separately from any known architecture.

The exhibition anticipates the forthcoming text "Construcción de Uno", a narrative by the artist that outlines a new articulation of relations between production and development. The text concerns a group of workers in a northern European location who chose to return to their former factory and embark upon a series of interventions on the site. The most important of these leads to a process where they attempt to develop an economy of equivalence where one unit of input produces one unit of output.

The apparent logic of their work appears to increase as the book progresses. Yet it is an effect caused by the reduction of their metal processes as they become the entropic factor in an elegant system.

At Eva Presenhuber the new exhibited works include wall designs, signage and aluminium structures. The exhibition follows recent projects at the Milwaulkee Art Museum; The Aspen Art Museum; Konsthall Lund and a forthcoming related project at The Palais de Tokyo that opens later in January.