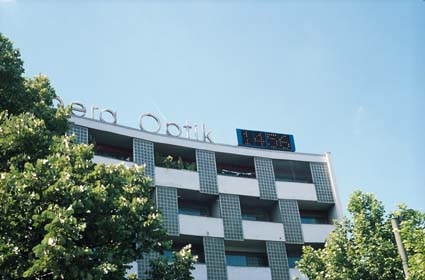 ERASMUS ASS ZEHN JAHRE OPIUM #2, 1997
Lamp technique clock, programmed silicon chip.
Clock installed on top of Osterberg Optik in central Kassel.
The clock is fitted with a chip that allows it to flicker between the current time and
local time for Kassel in the year 1810, a dfference of around 18 minutes.
The work relates to the book ERASMUS IS LATE which was written in 1995 but set between 1810 and 1997.
The coincidence of the dating and the exhibition seemed useful.
DOCUMENTA X, Kassel, 1997.